New Here? Take a Tour!
Welcome to Aisle Society, an entirely new way to gather inspiration for your wedding day.
Wedding bloggers from around the world are using Aisle Society to share inspiration with you, all in one place!
We've created this powerful tool to help you find ideas and inspiration for your wedding in a way that's perfectly tailored to your personal tastes.
Visit the homepage to view the most recent posts from Aisle Society bloggers. You can sort the posts by trending, newest, and most liked to see what other users are loving!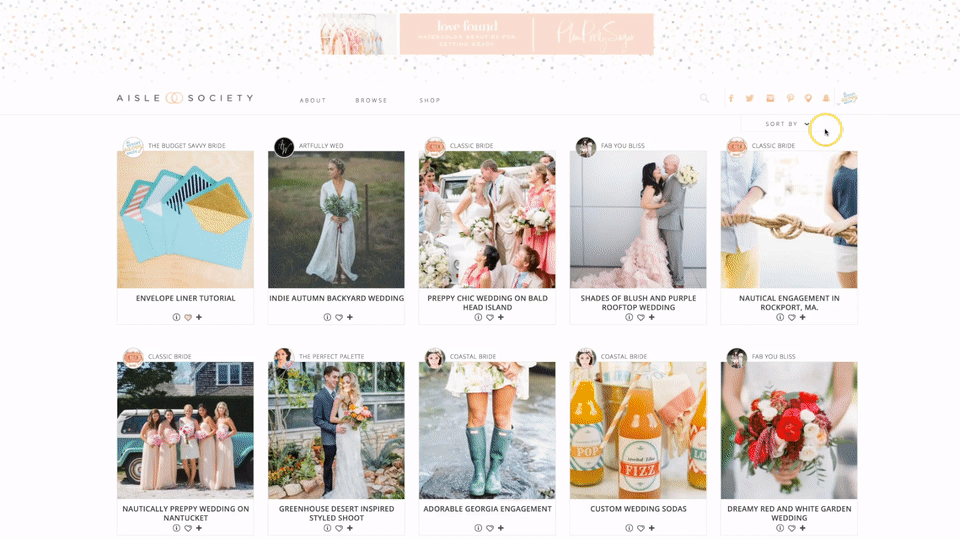 See a post you love? Interact with it!
When you hover over a post, you'll see arrows. The arrows allow you to scroll through all of the images from the post. Want to learn more? Click the title to read a description and see all the details. Love what you see and want to see the full feature? Simply click on the image to be taken to the blog to see the whole feature!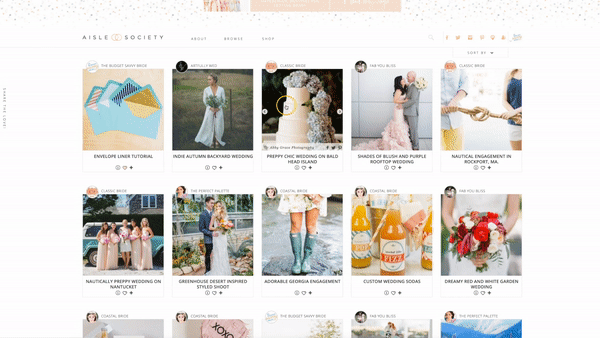 Create Your Society
When viewing an individual post, you can choose things you want to see more of by adding to "Your Society". Any time you find an element, detail, blogger, or wedding pro that you love, just click the plus sign next to that element and it will automatically be added to "Your Society".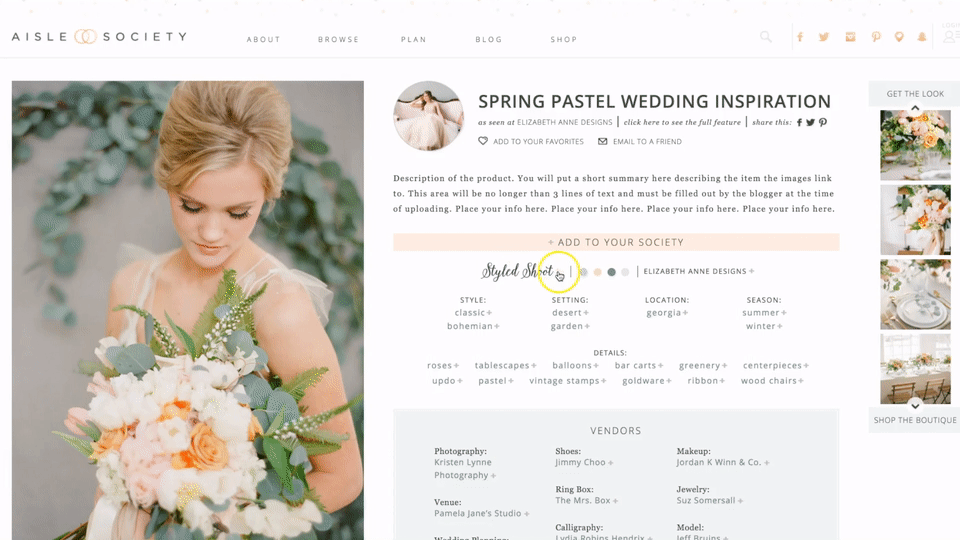 For example, if you love the color Pink and add it to your Society, you will be able to see all of the recent and future posts with the color Pink! You can curate your Society to reflect what YOU want to see: from wedding details to colors, wedding pros, locations, and more - even your favorite blogs! You can view your Society by clicking on "My Society" in the dropdown menu found in the top right corner.
If you decide you no longer wish to follow one of your selections, simply hover over the plus sign and click to deselect the option and remove it from your Society.
Connect, Browse, and Share!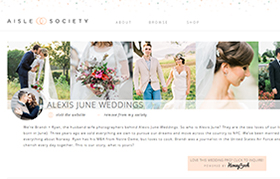 Your Favorite Wedding Pros
Add your favorite Wedding Pros to Your Society, click on their name to see more of their work on Aisle Society, and inquire with them too!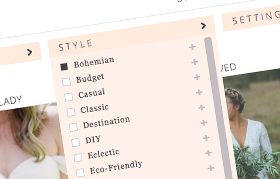 Looking for something?
Click on "Browse" to filter Aisle Society posts by blogger, category, style, setting, season, or color. Choose as many or few options as you'd like!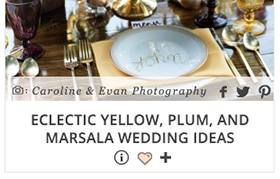 Share your inspiration!
If you find an image that you love, you can use the social icons found in each post to share on Facebook, add to your Pinterest boards, or post on Twitter!
an inspired new way to plan your wedding
We are all so excited for you to dive in to Aisle Society and experience a brand new way to find wedding inspiration!
Have questions or issues? Get in touch with us at support@aislesociety.com!